By Barbara Starr

WASHINGTON (CNN)
-- The top U.S. commander in Afghanistan is expected to ask the Obama administration for additional troops and equipment, according to a senior U.S. military official familiar with Gen. Stanley McChrystal's thinking.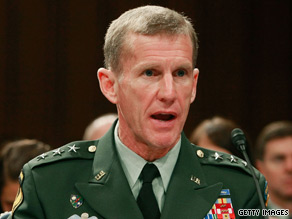 Gen. Stanley McChrystal's report on the war's status will be delivered in August, the source says.
The request will be for troops and equipment for conducting intelligence, surveillance and reconnaissance, as well as more assets to deal with roadside bombs and explosives, said the official, who declined to be identified because McChrystal's request has not been formally transmitted to the Pentagon.
The request could be made in coming weeks after McChrystal completes a "troop-to-task review" to calculate whether there are enough U.S. troops in Afghanistan -- and the right mix of troops -- to carry out the military's war plan at an acceptable level of risk, the official said.
sitfu.com
Taking a Closer Look at the Stories Ignored by the Mainstream Media
Posted on 7:37 AM by x and filed under
afghan war
,
afghanistan
,
barack obama
,
pentagon Gen. Stanley McChrystal
,
troops
,
us soldiers
|
0 Comments »