(CNN) -- A former California police officer accused of sexually assaulting a motorist during a traffic stop pleaded guilty in federal court, federal prosecutors said Friday.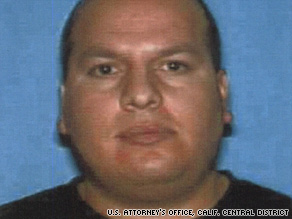 Federal prosecutors charged Feliciano Sanchez with deprivation of rights under color of law.
Feliciano Sanchez, 34, admitted in court Thursday that while on duty on May 16, 2007, he pulled over a female driver in a traffic stop and forced her to perform oral sex on him, according to a news release from U.S. Attorney Thomas O'Brien, who heads the office for the Central District.
Sanchez, then of Los Angeles County's Bell Police Department, stopped the woman for speeding or weaving down the road, said central California U.S. attorney spokesman Thom Mrozek, citing court documents.
After learning the woman, identified as R.H. in court documents, did not have a driver's license with her, Sanchez told her he suspected her of drinking and her car would be towed, Mrozek said.
Sanchez offered to drive R.H. to her job, but instead drove her to the parking lot of an auto repair outlet in Bell, Mrozek said.
Sanchez placed his hand on his gun and forced her to perform sex on him in his patrol car, Mrozek said. Afterward, Sanchez drove R.H. to her work place, Mrozek said.
"Officer Sanchez brutalized a person he had sworn to serve," O'Brien said in the release. "As a result of his criminal conduct, Mr. Sanchez now faces a substantial amount of time in federal prison. His conduct eroded public confidence in law enforcement and cast a pall over his former colleagues who obey the law, proudly working to preserve public safety."
sitfu.com
Taking a Closer Look at the Stories Ignored by the Mainstream Media
Posted on 7:17 PM by x and filed under
Feliciano Sanchez deprivation of rights
,
sexually assaulting
|
0 Comments »